PARADISE DREAMING — Inspiration Nook/"Surreal -ality of Life"
2011-08-21 at 03:20 pm
Blog
RSS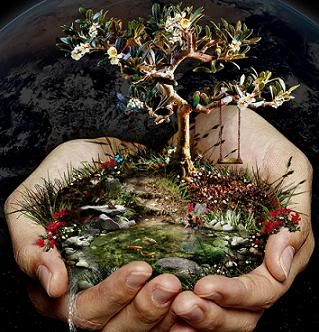 PARADISE DREAMING
Fragrant plumeria,
water crystal clear,
I am that child once again
swinging high within
this paradise canvas
painted once more for me.
And as I delight
in crystalline waterfalls
of this paradise
summer's day,
the rhythms of each
falling drop soothe
my heart and soul,
inviting me so gently
to their tropical serenity.
As I stop and listen
and join in the tranquil scene,
Koi silver and golden,
catch my eye as they swim,
bringing peace my way
and good luck on this day
as ukulele love songs
upon paradise breezes flow
infuse the open spaces
within my treasure box glow.
And as I recall
this sweet paradise,
I'm transported once more
to that place safely held
within imagination's dreams
and the fanciest of flights,
my refuge,
my sanctum,
tranquility's peace.
(c) 8-21-11 barbara kausteklis
Written for The Inspiration Nook/
"The Surreal -ality of Life."
http://www.friendburst.com/blog/54968/surreal-ality-life/
Thanks always for your visits and comments.
Aloha Hugs!
~barb~

Last 5 posts by Barbara_K
View Counter: 1,641 views

4 Responses to "PARADISE DREAMING — Inspiration Nook/"Surreal -ality of Life""
Leave a Reply
You must be logged in to post a comment.