Shark week
2012-08-16 at 01:33 pm
Blog
RSS
During the 25th Anniversary of Shark Week on the Discovery Channel this August, people around the world are talking about sharks. But there's something quite serious going on with sharks that people may not know: they are disappearing from our oceans, and fast.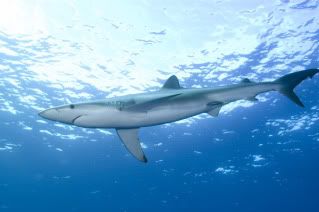 Sharks are critically important. They have roamed our oceans since before the time of dinosaurs, but their long reign at the top of the ocean food chain may be ending. The onset of industrial fishing over the past 60 years has drastically depleted their populations. As key predators, their decline has risks for the health of entire ocean ecosystems. Now it's time to make sharks count.
For more information about the Pew Environment Group's global shark conservation efforts, visit http://www.PewEnvironment.org/sharks
Sharkwater Documentary
For filmmaker Rob Stewart, exploring sharks began as an underwater adventure. What it turned into was a beautiful and dangerous life journey into the balance of life on earth.
Driven by passion fed from a lifelong fascination with sharks, Stewart debunks historical stereotypes and media depictions of sharks as bloodthirsty, man-eating monsters and reveals the reality of sharks as pillars in the evolution of the seas.
Filmed in visually stunning, high definition video, Sharkwater takes you into the most shark rich waters of the world, exposing the exploitation and corruption surrounding the world's shark populations in the marine reserves of Cocos Island, Costa Rica and the Galapagos Islands, Ecuador.
Full documentary ( French language)



Last 5 posts by Philharmonie
View Counter: 185 views

9 Responses to "Shark week"
Leave a Reply
You must be logged in to post a comment.