Friendburst Caption Contest #3!
2011-09-10 at 12:00 pm
Blog
RSS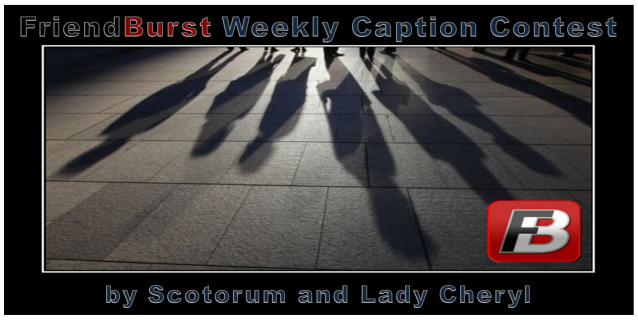 Welcome to our Third Friendburst Caption Contest!
Every Saturday we post a picture. You have almost a week to use your imagination to come up with one or more appropriate captions and post it as a comment.
NB: captions or accompanying illustrations considered inappropriate for family viewing may be disqualified and deleted.
Everyone participating is encouraged to comment on other writers' captions when they find them funny or otherwise worthwhile. This will help the writers and us judges.
Then on Thursday at 7 PM EDT the contest for that week will close. Cheryl and I will pick our three favorites and rank them. No more than one entry from each entrant will be eligible to be included in the top three each week. Friendburst Activities Crew will not be eligible to win.
Weekly winners win Friendburst credits!  First place gets 1500, Second Place 1000, Third place 500.   Don't ask how much that translates into in real US money.  We don't want to disincentivize you!
WINNERS OF LAST WEEK'S CONTEST #2!
3rd Place. Jean S: Whadda ya mean it makes me look fat?
2nd Place. Marcia: Don't give me any of your crap!
1st Place: Bumpalottapus: Hey next time try some Downy in the sock!
Congratulations winners, and thanks to all participants!  It made me feel in the pink! -Bob/Scotorum
If you have any images you believe might be suitable for a future challenge, please friend me and send the image or the code to me http://www.friendburst.com/Scotorum/
Here's this week's caption-winning image!


Last 5 posts by Friendburst_Activities
View Counter: 301 views

355 Responses to "Friendburst Caption Contest #3!"
Leave a Reply
You must be logged in to post a comment.