STEP-BY-STEP (A "Simple Sunday" piece)
2013-07-02 at 09:05 am
Blog
RSS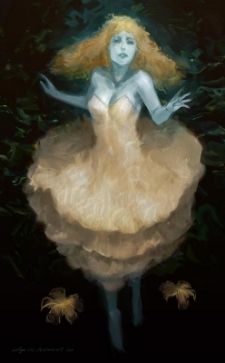 "Mystical Flowers" by Aditya Ikranegara
STEP-BY-STEP
Trying to look as though
I'm in complete control,
attempting to find my way
across this stage of life
one
step
at
a
time,
I find myself dancing
with steps quite unsure,
dancing lightly upon the edge
of each and every day,
as I try so very hard
to find that balance
I've always sought,
upon that narrow
and fine line
that marks my journey
along the edge of life
as I try to find my way.
And as I pirouette
and twirl
and dance upon the stage,
trying so hard
to maintain some sense
of balance and control
and to look like I know
what I'm doing
at each turn,
waves of uncertainty,
unease
and unrest,
return to haunt
my heart and my soul,
as emotions I thought
I had left  in the past
come flooding over me
and my tentative steps,
still not as sure of myself
as I'd so very much
like to be.
(c) barbara kausteklis 7-1-13
Written for this past weekend's CPC "A Simple Sunday"/
"Simple Sunday Dances Among Mystical Flowers."
http://www.friendburst.com/blog/108182/simple-sunday-dances-among-mystical-flowers/
Thanks so much for your visits and comments.
~barb~
Last 5 posts by Barbara_K
View Counter: 436 views

17 Responses to "STEP-BY-STEP (A "Simple Sunday" piece)"
Leave a Reply
You must be logged in to post a comment.